Copyright AFP 2017-2021. All rights reserved.
Several accounts on Facebook shared an image of members of the opposition Indian National Congress party sitting in front of a banner saying: "Chor [thief] group reunion. "However, the image has been edited – the original photo is from 2019 and the banner does not have those words printed on it.
The image was shared on Facebook here on August 23, 2021, by an account with more than 400,000 followers. The photo has since elicited more than 2,000 reactions.
The photo appears to show a meeting involving high-level members of the Congress Party, including former Prime Minister Manmohan Singh, Acting Party Chairperson Sonia Gandhi and her son Rahul Gandhi. The banner behind them reads: "Indian National Congress. Chor Group Meeting."
"Chor" means "thief" in Hindi.
The caption of the message reads: "Finally, the family accepts who they are!"
Screenshot of a misleading message taken on August 31, 2021
Although many people seem to have shared the post as satire, the original poster repeatedly insisted in the post's comments that the image had not been edited.
Some people seem to have been misled by the message – for example, one user wrote: "Please look carefully at the poster, the word space is the same, the word core group appears to have been misspelled. Poster does not. appear to be edited. "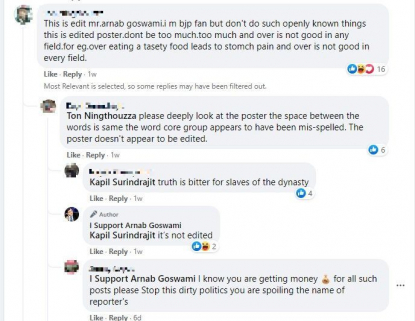 Screenshot of the comments below the original post, taken on August 31, 2021
The image was also shared by several other accounts on Facebook like here, here and here.
However, the image has been changed – the second line of text on the banner has been added.
A reverse image search on TinEye shows that the original photo was taken in 2019 during a congressional working committee meeting.
It was shared in this report by Indian media Zee News. In the original photo, the banner only reads "Indian National Congress" in English and Hindi. There are no words "Chor group meeting" printed on it.
A similar photo of the same event was used in this report by the Mathrubhumi news site. The caption of the photo reads: "Congress President Rahul Gandhi with senior Congress leaders Sonia Gandhi, Manmohan Singh and others at the Congress Working Committee meeting in New Delhi. Photo: PTI . "
The photo used in Mathrubhumi's report is in the archives of the Press Trust of India (PTI).
Below is a comparison between the edited image shared on Facebook (L) and the original photo found on the Zee News website (R).
Source link